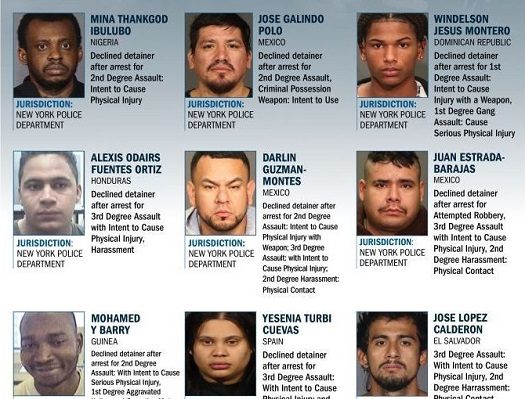 Immigration and Customs Enforcement (ICE) on Friday increased the pressure on New York City's sanctuary policies — putting out a list of illegal immigrant fugitives who have been released into the city despite requests from ICE to hand them over for deportation.
Acting ICE Director Matthew Albence presented the list to reporters at a press conference in New York where he spoke of the dangers of sanctuary cities — in which jurisdictions ignore detainers issued by ICE for arrested illegal immigrants.
Those detainers are requests that ICE be informed of an illegal immigrant's pending release from custody so they can be transferred to deportation proceedings. While the Trump administration has been warning of the dangers of such policies for months, it's a fight that has been brought into the spotlight by the murder of a 92-year-old woman, allegedly by an illegal immigrant sprung from custody in November after New York ignored an ICE detainer.
The list of fugitives put out by ICE includes suspected illegal immigrants from Nigeria, Mexico, the Dominican Republic, Honduras, Guinea, Spain, and El Salvador. Those released have arrests for assault in the first, second and third degrees, attempted robbery, criminal possession of a weapon, gang assaults and other violent offenses.
ICE also issued a list of illegal immigrants currently in custody, who it says "may be released into New York communities" after they have served their sentences.
Read more at Fox News