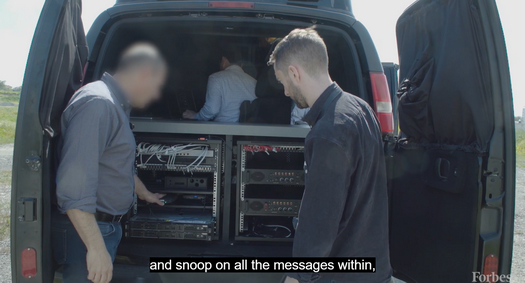 On a wildflower-lined gravel track off a quiet thoroughfare in Larnaca, Cyprus, Tal Dillian is ensconced in a blacked-out truck. It's a converted GMC ambulance, pimped out with millions of dollars of surveillance kit, antennas on top reaching out to learn what it can from any smartphone within a 1-kilometer radius and, at the click of a button, empty them of all the content within. WhatsApp messages, Facebook chats, texts, calls, contacts? Everything? "Exactly," says Dilian, a 24-year Israeli intelligence veteran and multimillionaire spy-tech dealer, though he doesn't look it; imagine a shabbier, more hirsute George Clooney. Less Hollywood style, more avuncular chic.
He's dialing up the charm offensive over the two days he gives Forbes unprecedented access to the normally hidden, clandestine spy-tech industry, estimated to be worth $12 billion and rising. It's the first time Dilian has gone on camera, openly discussing the more controversial aspects of the industry, namely its ethics. This is, after all, a market that's been linked to snooping on murdered Saudi journalist Jamal Khashoggi, not to mention attacks on human rights lawyers and activists in London, Mexico, the U.A.E. and beyond.
But first he wants to show off the power of his surveillance kit. His van, which costs between $3.5 million and $9 million, depending on how much spy tech the customer desires, is the A-Team truck spliced with a Bond car. To show what it can do, Dilian has posted a colleague 200 yards away. "We will trace them, we will intercept them and we will infect them," Dilian says, as if delivering a line from Ocean's 11. He forces the mock target's Huawei phone to connect to his Wi-Fi hub, and from there he hacks into the device, silently installing surveillance software. No clicks required from the victim. Inside the vehicle, seconds after they're sent, WhatsApp messages from the device appear on a monitor in front of Dilian.
Read More at Forbes.com