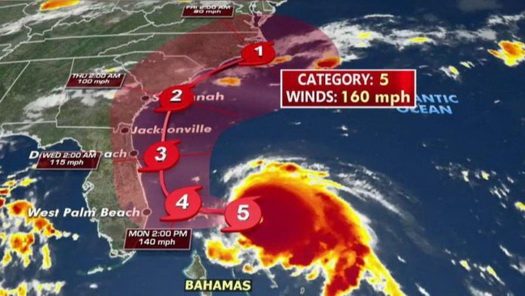 An already dangerous Hurricane Dorian intensified yet again Sunday as it closed in on the northern Bahamas, threatening to batter islands with Category 5-strength winds, pounding waves and torrential rain as people hunkered down in schools, churches and other shelters.
The National Hurricane Center in Miami said Dorian's maximum sustained winds have increased to 160 mph (260 kph), up from 150 mph (240 kph). It is moving west at 8 mph (13 kph). "Devastating hurricane conditions" are expected in The Abaco Islands early Sunday and across Grand Bahama later in the day, the center said.
Millions from Florida to the Carolinas kept a wary eye on Dorian, meanwhile, amid indications it would veer sharply northeastward after passing the Bahamas and track up the U.S. Southeast seaboard. But authorities warned even if its core did not make U.S. landfall and stayed offshore, the potent storm would likely hammer U.S. coastal areas with powerful winds and heavy surf.