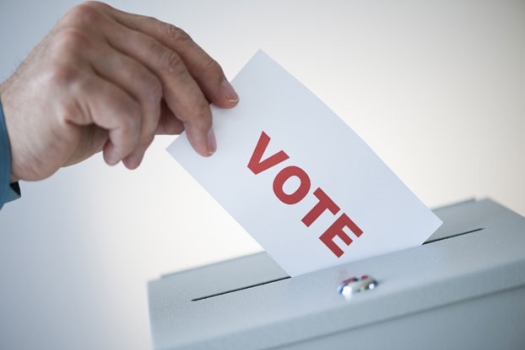 Democrats seized control of the New York State Senate for just the third time in 50 years on Tuesday, a victory that could fundamentally alter the state's economic and political fabric next year and beyond.
The Senate had been the Republican Party's last foothold of power in an increasingly blue state. But after a closely watched, expensive battle, Democrats won eight Republican-held seats, giving their party decisive command of Albany's triumvirate of power and positioning them to unleash a cascade of long-stymied progressive legislation.
Democrats had needed to flip only one seat to erase the Republicans' razor-thin majority. They blew past that number, unseating five incumbents and winning three open seats.
Andrew Cuomo Wins 3rd Term As New York Governor
New York Gov. Andrew Cuomo won a third term by beating Republican Marc Molinaro.
The Democrat was seen from the start as the prohibitive favorite in the race, with big advantages in fundraising and name-recognition.
He worked throughout the campaign to link Molinaro to President Donald Trump, who is unpopular with many New Yorkers.
Cuomo also touted his administration's work rebuilding airports and bridges and boosting the upstate economy.
The victory would give Cuomo the same number of terms as his father, the late Gov. Mario Cuomo.
Orthodox Jewish candidates Simcha Felder and Simcha Eichenstein elected:
Eichenstein replaces the retiring Assemblyman Dov Hikind.
State Senator Felder, a Democrat, had been the target of a furious campaign by leaders of his own party as he caucused with Republicans and allowed them to maintain a narrow lead in the Senate.
U.S. SENATE
Sen. Kirsten Gillibrand of New York was one of the earliest called races in New York State Tuesday night. The Democrat was re-elected to the U.S. Senate after a battle with Republican challenger Chele Farley.
NEW YORK STATE ATTORNEY GENERAL
Democrat Letitia James has reportedly defeated Republican lawyer Keith Wofford, to become New York's first black attorney general.
James is in her second term as New York City's public advocate, a post similar to an ombudsman.
Max Rose Upsets Dan Donovan, NYC's Lone Republican Congressman
An Army veteran beat the odds Tuesday in unseating New York City's only Republican member of congress.
Max Rose, a moderate Democrat who was wounded in Afghanistan in 2013, defeated U.S. Rep. Dan Donovan in a district that covers Staten Island and a small part of Brooklyn.
New York's 11th Congressional District was Trump Country in 2016 and the president remains popular in much of suburban Staten Island, but Rose zigged from other liberal candidates by not making President Donald Trump's leadership a central issue of his campaign.
Instead, the 31-year-old campaigned on nonpartisan issues like fixing infrastructure and fighting the opioid addiction epidemic. He took two weeks off from his campaign in August for National Guard training.
"The story of this country has always been that no matter our differences, no matter the challenges in our way, we do what others said was impossible and they said this was impossible," an enthusiastic Rose told supporters in Staten Island.
REPUBLICAN REP. FASO DEFEATED:
Antonio Delgado, a 41-year-old lawyer who's been a Rhodes scholar and a hip-hop artist, defeated U.S. Rep. John Faso, 66, in a politically diverse Hudson Valley district that went for Barack Obama in 2012 and Donald Trump in 2016.
Delgado, who was known for his racially-charged lyrics, drew outrage during the campaign when he said "Israel is not a democracy".
Two more Republicans in upstate districts were in tight races too close to call as of early Wednesday
Republican Chris Collins, who is running in western New York while under an insider trading indictment, declared victory with a lead of around 3,000 votes, while his Democratic challenger Nate McMurray initially conceded defeat and then took it back.
And in the center of the state, Democrat Anthony Brindisi, a state assemblyman from Utica, held a lead of around 1,400 votes over Republican U.S. Rep. Claudia Tenney, an early Trump supporter.
Even with those races up in the air, New York's congressional delegation is set to move to the left, with at least 20 of its 27 seats held by Democrats.
Speaking to supporters in Kingston, Delgado told supporters his victory represents "a new day built upon our shared values: equality, integrity, accountability, service, faith and a whole lotta love."
Delgado, who earned a Harvard law degree before joining an international law firm, won as a black candidate in a district that is 90 percent white and evenly split among Democrats, Republicans and independents.
"Way too much of our political climate is fueled by divisiveness, hatred and fear," Delgado said. "It only serves to distract us from our shared struggle and deep inequities that impact so many people here at home and across this country."
GOP HOLDS CONTROL ON LONG ISLAND
Despite Republicans being projected to lose majority control of House overall, Rep. Lee Zeldin has defeated Democratic challenger Perry Gershon in a New York's 1st District – which includes the eastern half of Long Island.
GOP mainstay in the House, Rep. Peter King, was re-elected to a 14th term early Wednesday morning. King defeated Democrat Liuba Grechen Shirley in New York's District 2.
Liuba Grechen Shirley gained national exposure when she won the right to spend federal campaign funds on childcare however, King pulled away several hours after the polls closed.