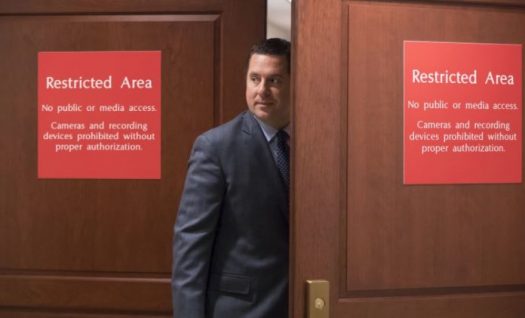 Devin Nunes who leads the house intelligence committee enters a restricted zone in capital hill.
Friday, President Trump is expected to declassify a shocking memo and clear it for public release tomorrow. The report was put together by the house intelligence committee and is expected to accuse the justice department under President Obama and the FBI of abuse of power.
It was recently revealed that the Hillary Clinton campaign paid a group called FusionGPS to put together the so-called "Russian dossier".
The memo will reportedly say that the FBI knowingly presented this false "Russian dossier" to a judge in order to obtain a FISA warrant. They then used the warrant to spy on the Trump campaign and tap his phones.
The shocking details of the memo, already caused a high ranking member of the FBI to resign. Andrew McCabe is expected to be named as a key player in the alleged abuses. He resigned earlier this week.
The FBI and house democrats are out in full force trying to stop the publication. Nancy Pelosi the ranking Democrat in the house even demanded that Devin Nunes who leads the house intelligence committee be removed from the committee.