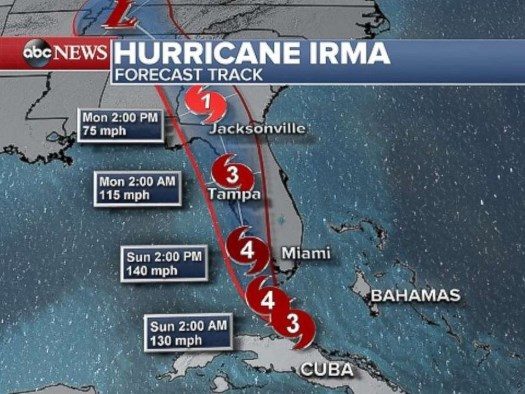 From ABC 6 News:
Hurricane Irma's leading edge bent palm trees and spit rain as it swirled toward Florida with 120 mph winds Saturday on a projected new track that could expose Tampa – not Miami – to the storm's worst fury.
Tampa has not taken a direct hit from a major hurricane in nearly a century.
The westward swing away from Miami caught many people off guard along Florida's Gulf coast and triggered an abrupt shift in storm preparations. A major round of evacuations was ordered in the Tampa area, and shelters there soon began filling up.
Still, Miami was not out of danger. Because the storm is 350 to 400 miles wide, the metro area could still get life-threatening hurricane winds and dangerous storm surge of 4 to 6 feet, forecasters said.