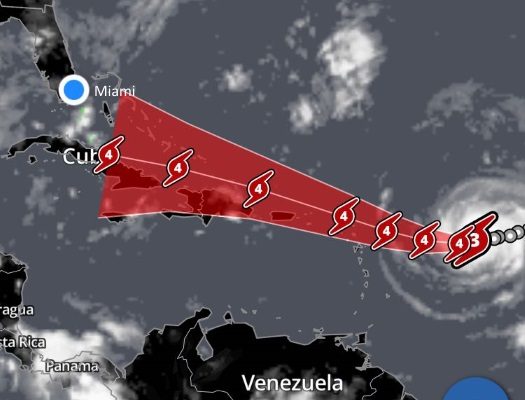 There is an increasing chance that South Florida will be hit by Hurricane Irma — which is currently a Category 3 storm closing in on the Caribbean, and expected to grow to a category 4 — later this week and over the weekend, the National Hurricane Center (NHC) said this morning.
From ABC News:
ABC News meteorologists say at this time the possibilities of where Irma could reach in the U.S. span from Mobile, Alabama, to the Outer Banks of North Carolina, and the forecast cone of uncertainty is now very close to including parts of southern Florida and Miami.
The storm is expected to be near the Cuba coast by Saturday.
Irma's winds have strengthened to 120 mph as the storm closes in on the Caribbean.
Rain and winds are expected to move into the northern Leeward Islands, including Antigua and Saint Martin, Tuesday afternoon and evening, with the worst conditions occurring Tuesday night into early Wednesday morning.
The Virgins Islands and Puerto Rico are forecast to see deteriorating conditions throughout the day on Wednesday with the worst of the rain and wind arriving Wednesday night.