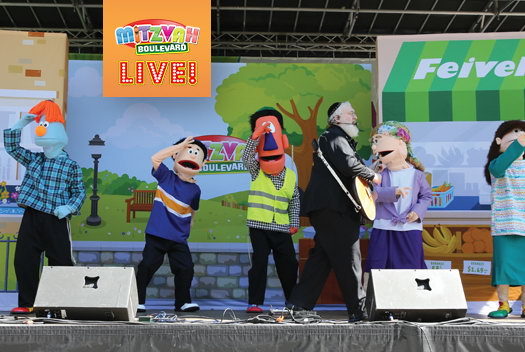 Introducing Mitzvah Boulevard Live!, a fun-filled show of clapping, dancing, and singing based upon the Mitzvah Boulevard DVDs that kids know and love.
Whether you are new to Mitzvah Boulevard or have watched the Mitzvah Boulevard DVDs time and time again, Mitzvah Boulevard LIVE! will surely surprise and delight you with fantastic backgrounds, super-cool lighting, jumbo props, and creative sound effects. Guaranteed to keep the whole crowd enthralled, we have prepared the very best interactive show in Jewish entertainment!  Together, you will watch, spellbound, as the Mitzva Boulevard characters entertain you on stage.
Each performance can be tailored to your community, school, organization or even your family!   You can choose from a variety of performances such as a holiday-themed show that include the songs of Chanukah, Purim, Pesach etc;  midos-themed performances that promote Safety 1st, Ahavas Yisroel, Kibud Av v'Em,  Tzedokah, Brachos and much more; and our block-buster Mitzvah Boulevard extravaganza that features up to 70 minutes of fun and excitement for the entire family!
Mitzvah Boulevard Live! was developed by the dynamic duo of Chaim Hershkowitz and Chaim Fogelman who, with years of experience presenting live programs that entertain and educate, will not disappoint! Their priority is to give each audience the best time ever, in keeping with Torah Treasures' motto, "Chinuch made fun for the entire family."
To bring Mitzvah Boulevard Live! to your community email us at info@torahtreasure.com 
For more information visit: www.MitzvahBoulevardLive.com