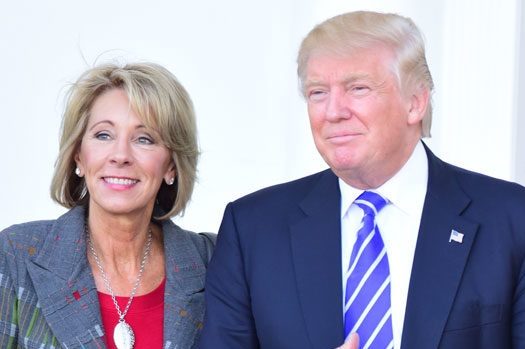 Donald Trump with Betsy DeVos
Voucher Advocate Confirmed as Education Secretary
The Senate on Tuesday confirmed school choice advocate Betsy DeVos as Education secretary by the narrowest of margins, with Vice President Mike Pence breaking a 50-50 tie in a historic vote.
Two Republicans, Susan Collins of Maine and Lisa Murkowski of Alaska, joined Democrats in the unsuccessful effort to derail the nomination of the wealthy Republican donor. The Senate historian said Pence's vote was the first by a vice president to break a tie on a Cabinet nomination.
DeVos has faced scathing criticism from teachers unions and "civil rights activists" over her support of charter and private schools and her religious beliefs.
The following is a statement from Agudath Israel of America on DeVos' confirmation:
Agudath Israel of America congratulates Betsy DeVos on her confirmation today as the next U.S. Secretary of Education. Mrs. DeVos has spent the last three decades focused on giving parents and children educational opportunities. She will now bring her passion to the more than 50 million children educated in schools across America.
Agudath Israel has been deeply engaged in the national discussion on educational reform for more than 60 years and has worked closely with elected officials on both sides of the aisle to seek ways to enhance American education – both public and nonpublic. Support for public education should include the entire public, including parents who seek for their children an educational alternative to their local public school.
Agudath Israel looks forward to continuing to work with Mrs. DeVos and with stakeholders from across the educational spectrum to create and implement policies that benefit every child in America, regardless of where they live or attend school.