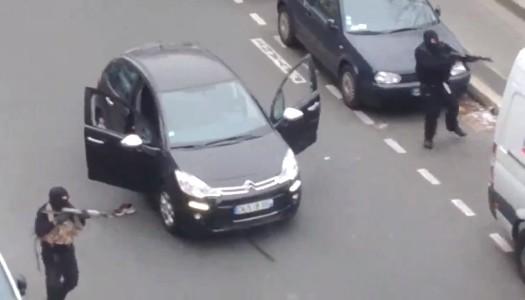 At least 12 people died in an attack on the Paris headquarters of the Charlie Hebdo satirical magazine.
Footage from the scene of the attack shows two armed men exiting a black car and shooting a rifle at a police officer near the building. One of the assailants then approached the officer and shot him in the head, in the video of the attack Wednesday posted on the French news website Jssnews.com.
Ten people also were wounded in the attack, five in serious condition.
The assailants escaped the scene. The identities of the victims have not yet been made known.
Two of the 12 people reported killed were police officers, according to the French daily Le Monde. Employees of the satirical magazine also are reported killed. Among them was caricaturist Georges Wolinski, 81, a French Jew who was born in Tunisia and moved to France at the age of 13 and has worked in leading publications including L'Humanité, Le Nouvel Observateur and Paris Match.
According to the Le Monde report, the assailants cried out "Allah is the greatest" and that their attack was to "avenge the prophet."