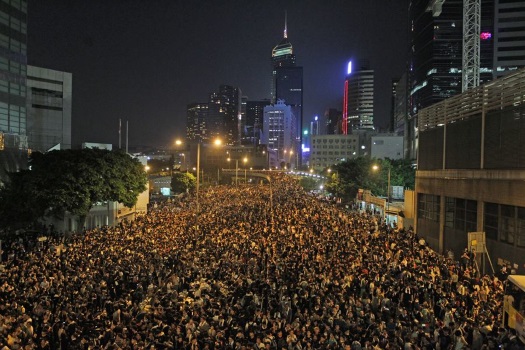 As unrest continues to escalate in Hong Kong, members of the area's Jewish community are keeping a watchful eye on the nearby protests."Like most things, the further away one is, the greater the hype is," Rabbi Mordechai Avtzon, director of Chabad of Hong Kong, told VIN News.
From VIN News:
As previously reported on VIN News, Tens of thousands have flocked to Hong Kong to show their dissatisfaction with Beijing's plan to screen potential candidates who will be running for Hong Kong's chief executive position in 2017, instead of allowing open nominations.  Police resorted to pepper spray and tear gas on Sunday to disrupt the mostly peaceful demonstrations, with officers keeping watch as protestors clogged city streets on Monday.
Chabad of Hong Kong is located on Macdonnell Road in the Midlevels district, approximately five minutes away from the site of the massive demonstrations, according to Rabbi Avtzon.  A second Chabad House is located in four miles away on the mainland in Kowloon and thousands of Orthodox Jewish travelers and businessmen flock through the doors of the two institutions annually.
"A significant amount of people are disgruntled that China, in their opinion, is not delivering on its promise of universal suffrage and they feel that the only way to make that happen is to push China into a corner," said Rabbi Avtzon. "I am personally skeptical that that works with a country like China and with a society like Hong Kong."
Monsey , NY residence Joshua Eller, who travels to Hong Kong on business several times each year said that while smaller demonstrations are not uncommon it is important to remember that Hong Kong is controlled by China.
"The democracy in Hong Kong is based on the graces of the Chinese government," said Eller.  "Hong Kong is China's self-serving experiment in democracy but the Chinese government won't let it push too far.  There may be people there who want the freedom of full independence but that won't happen."
Eller noted that while the situation could escalate to a crisis if the Chinese military were called in, for now, he would have no qualms about traveling to Hong Kong for business.
Rabbi Avtzon said that he expects the protest to continue through Wednesday, October 1st, China National Day.
"If things stay under control it will be an opinion expressed and it will be recorded, and probably nothing will happen," said Rabbi Avtzon. "If G-d forbid it does get out of control, we will need to daven a lot."
According to reports in the Wall Street Journal, the current clashes have prompted the harshest police response since 2005, with 26 people hospitalized on Sunday. Police said that 78 have been arrested since the protests began.