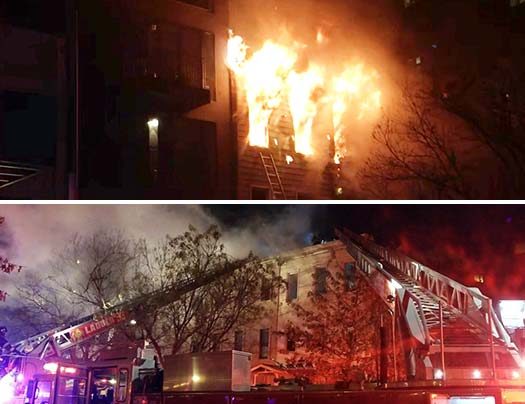 Six of New York's bravest were injured while battling a 3-alarm-fire in a Crown Heights home Tuesday night. The fire spread to three other structures, and a number of fire fighters suffered injuries when a stairway suddenly collapsed.
by CrownHeights.info
The fire broke out at around 9:15pm inside 910 Bergen Place, near Franklin Avenue. Cold temperatures and winds quickly fanned the flames and the fire department called a 3-alarm. The fire managed to spread to the three adjacent structures before it was finally placed under control.
A total of six fire fighters were injured while battling the blaze, three of whom sustained moderate injuries when a stairway collapsed. One police officer sustained minor injuries as well.
One family of three adults was displaced as result of this fire.
The flames were knocked out just before midnight, and firefighters were canvassing the charred, smoldering buildings, focusing their attention on the roof.
Fire officials believe the blaze started on the second floor of the initial building. Fire marshals are on the scene investigating a cause, but the assistant FDNY chief on scene didn't rule out weather and heating devices playing a role.
fire in Crown Heights on Bergen St. just behind my apartment pic.twitter.com/JQkUZnQOGK

— ᴊᴏsʜ ᴘɪɴᴅᴊᴀᴋ (@joshpindjak) January 3, 2018
Fire in Crown Heights on Bergen st near Franklin Ave. NYFD is on site pic.twitter.com/J6mzKv53Q1

— ᴊᴏsʜ ᴘɪɴᴅᴊᴀᴋ (@joshpindjak) January 3, 2018
Sad to see the destruction caused by last night's fire on Bergen st. & Franklin Ave. pic.twitter.com/RgODd63Hv3

— Shmuli Evers (@Shmuli) January 3, 2018