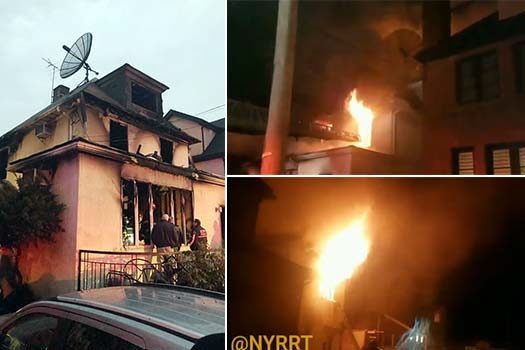 A fast moving fire has tragically claimed the lives of a mother and her three children, while injuring a number of others in Sheepshead Bay, Brooklyn. Chesed Shel Emes is on scene and assisting in preserving kovod hames.
by CrownHeights.info
A fast moving fire broke out in the second floor of a home at 1945 E 14th St, between Avenues S and T in the Sheepshead Bay section of Brooklyn, at around 2:30am, with the fire quickly spreading to the attic of the two and a half story structure.
Neighbors described seeing firefighters running into the burning house and attempt to rescue those trapped inside, while some of the residents were seen jumping out of the homes windows.
By 4:30am the fire was finally deemed under control and rescue personal discovered that four people perished in the blaze.
According to rescue sources a 40-year-old woman, an 11-year-old boy, a 7-year-old boy and a 3-year-old girl died in the fire. Other sources said that the woman was the three children's mother.
Five members of the same family managed to escape the flames, all suffered injuries ranging from critical to moderate. Five firefighters also suffered minor injuries.
"It was huge, it was unbelievable, and the father was standing in front of the house. He was covered in black. He was more than upset," a witness told the New York Post.
FDNY Commissioner Daniel Nigro said at the scene that the couple lived inside the house with their six children. One cousin was spending the night with them, he added.
"It was early morning, everyone in the home was asleep," Nigro said, according to WCBS. "The fire gets started and it got a good start before a neighbor noticed and called us.
"The fire traveled very quickly," he said. "The fire went from the first floor front, up the stairs to the second, again up the stairs to the attic."
Nigro said "our city grieves with this family today."
"This is a terrible tragedy, not just for this community, but for our city. This time of year, when these things strike, it just tears your heart out for the family," Nigro said.
The cause of the fire was not immediately known, the FDNY said.
Brooklyn @FDNY operating at a 3 Alarm fire 1945 East 14 St. With multiple fatalities. @NYPD61Pct pic.twitter.com/XvMszRNZtM

— NYRRT (@NYRRT) December 18, 2017
Additional video: Brooklyn @FDNY operating at a 3 Alarm fire 1945 East 14 St. With multiple fatalities. @NYPD61Pct pic.twitter.com/3jlnt8Biwl

— NYRRT (@NYRRT) December 18, 2017