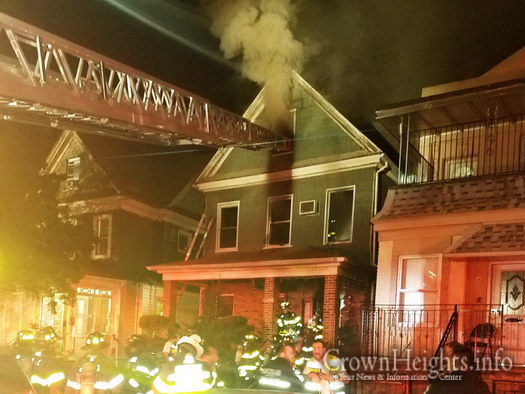 Jewish Couple Perishes in Late Night Blaze
A man and his wife perished in a late night blaze in Boro Park last night, and their 17 year old daughter suffered minor injuries in a fast moving fire that tore through their house in the middle of the night.
by CrownHeights.info Staff
A large and fast moving fire broke out in a home in Boro Park and claimed the lives of a Jewish couple, also injuring their teenaged daughter.
The fire broke out in the first floor of 1147 44th Street, a two and a half story private dwelling, at around 3:40am.
FDNY Deputy Chief Russ Regan told reporters that immediately upon arrival firefighters encountered a large body of fire that was very intense and which quickly spread up to the second floor as well as the attic.
Rescuers removed the two older victims unconscious and in critical condition, they were then rushed to Maimonides Hospital where tragically they passed away. Their teenaged daughter was rescued and reportedly suffered minor injuries.
One firefighter also suffered minor injuries while battling the blaze.
The fire was declared under control at around 6:00am.
The couple was identified by The Yeshiva World as 61-year-old Chaim Eluzer Shulem Gluck OBM and his wife, 59-year-old Faigy Gluck OBM.
Their Levayas will take place today, Monday, 2:30pm at the Shomrei Hadas Chapels in Boro Park.
The cause of the fire is under investigation.
Boruch Dayan Hoemes