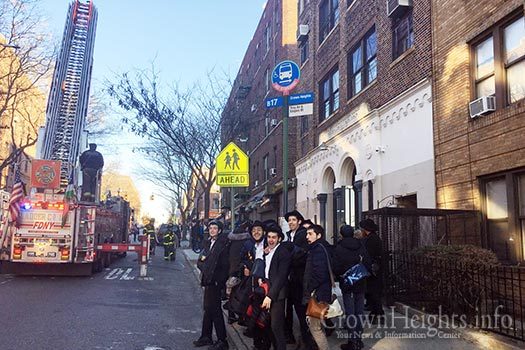 A fire broke out Friday morning in the basement of building which houses Oholei Torah Mesivta and forced the evacuation of the entire building, interrupting morning studies and prayers.
Firefighters received a report of a smoke condition in the basement of 417 Troy Avenue, a building which houses Oholei Torah Mesivta throughout the week and the Rainitz Shul on the weekends. Firefighters rushed into the basement and discovered a malfunction in the buildings boiler which caused a fire.
The building was ordered evacuated and the fire was quickly extinguished.
Meanwhile morning classes were interrupted as the students were forced to move elsewhere.
Sources in the school expect to be still be able to reopen the building today. "It was a minor incident and we are making repairs to the equipment" said a source.