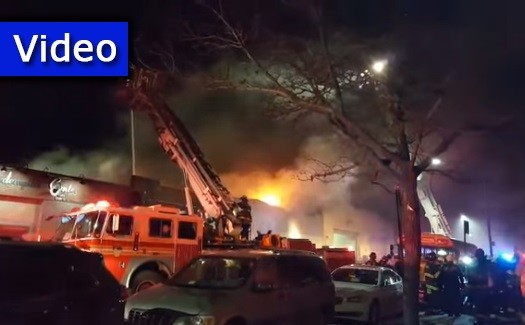 Three industrial kosher kitchens were completely destroyed in a five-alarm fire that swept through a warehouse for hours near Kings County Hospital south of Crown Heights.
From VIN News by Sandy Eller:
The blaze begin last night just before 11 PM at Greenfelds, located a block and a half away from Kings County Hospital Center and SUNY Downstate Medical Center, at 640 Parkside Avenue.
More than 200 firefighters responded to the scene, but according to CBS News, they were ordered out of the building because of the intensity of the flames. Crews battled the fire, likely fueled by cooking oils inside the building, by dousing the roof with water.
It took firefighters approximately seven hours to get the flames under control and the cause of the blaze is still under investigation.
One firefighter was treated for smoke inhalation and a civilian who was removed from the scene on a stretcher was conscious and receiving oxygen.  Due to the severity of the fire and the presence of combustible liquids on premises, the FDNY is keeping a truck on scene for the rest of the day.
Manager Joel Landau of Greenfelds said that the company had moved into the building just after Pesach 2015.  The building had been newly equipped with a one room milchic kitchen and two larger kitchens, one fleishic and one pareve, each consisting of a refrigerator, a prep room, a hot kitchen, a chilling area, a cooling refrigerator and a packing area.
Greenfeld prepares food for a variety of kosher food companies and caterers under the rabbinical supervision of the Nirbater Rov.
"We do commercial, retail and wholesale, starting from ten portions to 20,000 portions," Landau told VIN News.
Landau said that the kitchens are a total loss. Greenfelds' adjacent Crown Cold Storage, which is equipped with freezers used by others in the kosher food business, appears to have not sustained serious damage.
The Explore Charter School which serves 540 children from kindergarten through eighth grade and is located directly across the street from Greenfelds opened on time for classes this morning.
The fire at Greenfelds was the second five alarm fire in New York City in less than twelve hours.