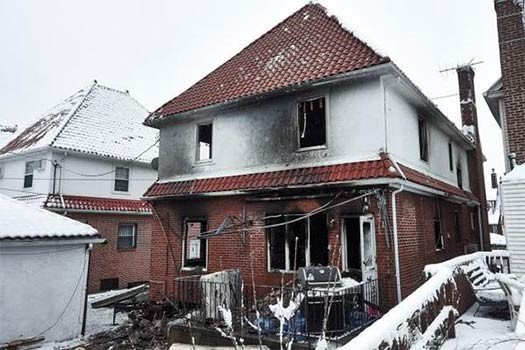 A malfunctioning hot-plate is believed to have caused a Friday night fire that claimed the lives of seven Jewish children – all members of the same family, ages 5 through 15 – in the Midwood section of Brooklyn. Only the mother and one 14-year-old daughter survived.
From the NY Post:
A malfunctioning hot plate ignited a Brooklyn inferno that left seven children dead, and their mother and another sibling in critical condition, officials said.
A mother and her eight children — four boys and four girls ranging in age from 5 to 15 years-old — were in their Midwood home when the fire began in the kitchen just after midnight Saturday. Flames and deadly smoke quickly spread to second floor where the youngest kids were sleeping, authorities said.
A child's cries of, "Mommy, Mommy, help me!" could be heard outside the blazing two-story brick home, a neighbor told The Post.
The mother, Gayle Sassoon, 45, and her 14-year-old daughter, Tzipara, jumped from second-floor windows to escape the flames.
Sassoon, her hands and feet bloodied, screamed, "My kids are in there, get them out! Get them out!" neighbors said.
The rest of the children were in five upstairs bedrooms in the rear of the two-story brick home. They were identified as Yakob, 5; Sarah, 6; Moshe, 8; Yeshua, 10; Rivkah, 11; David, 12; and Eliane, 15.
"The smoke and flames were horrendous. You couldn't even see the house," said Andrew Rosenblatt, 65, who called 911 at 12:23 a.m. to report the fire.
Fire Commissioner Daniel Nigro called it "the largest tragedy by fire that this city has had in seven years."
The hot plate might have been turned on before sundown Friday and left on to keep food warm, authorities said. Observant Jews avoid turning on ovens or electrical appliances once Sabbath begins.
Neighbors described the family as "very religious" and "ultra-Orthodox."
There were no smoke detectors on the first and second floors of the house at 3371 Bedford Ave, officials said.
"It's a tragedy for this family. It's a tragedy for this community. It's a tragedy for our city," Nigro said.
Two boys, ages 5 and 6, were pronounced dead at Beth Israel Hospital. An 8-year-old girl was pronounced dead at the scene, while her 15-year-old sister was pronounced dead at Maimonides Hospital.
Three siblings — a 12-year-old girl and her 7- and 11-year-old brothers — were pronounced dead at New York Community Hospital in Brooklyn.
Sassoon was taken to Jacobi Hospital in the Bronx, and her surviving daughter to Staten Island University Hospital North. They are in critical condition with burns and smoke inhalation.
The father was at a conference and authorities "are having trouble locating him," Nigro said.
Sassoon grew up in the Bedford Avenue home, said neighbors, who added that Sassoon and her husband recently moved back to the United States from Israel, where they had lived since 1998.
Neighbors fear for Sassoon."I don't know if she makes it through this. I don't know how she's going to face what happened to her family," said a friend who gave her name only as Bonnie. "I pray that she has the sanity."
Sassoon and her kids were active in the community, Bonnie said.
"They used to wash cars before Passover. She's very involved in the community. It's a terrible loss," she said, adding that Sassoon was "a beautiful girl."
Neighbor Nate Weber said he couldn't handle the sight of the young children being wheeled away on stretchers.
"I just turned away. I didn't even want to look," he said.
Firefighters had a difficult time finding the children, Nigro said.
"To find a house full of children that can't be revived, I'm sure this will take its toll on our members for quite some time," he said.
The only smoke detector in the house, Nigro said, was in the basement.
There was "no evidence of smoke detectors on either the first or the second floor that may have alerted the family to this fire," Nigro said.