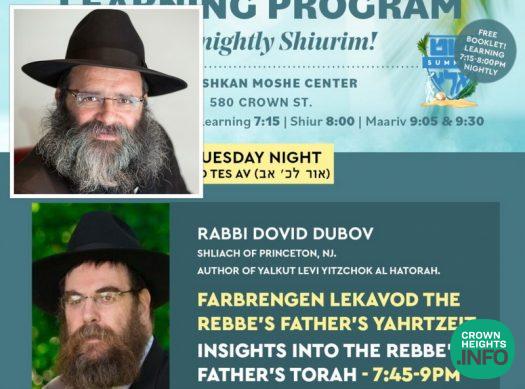 Tonight: Chof Av Farbrengen With Rabbi Dovid Dubav and Rabbi Kalman Weinfeld
A special farbrengen as part of the Summer Learning Program, will be held at Mishkan Moshe, 580 Crown St. With Rabbi Dovid Dubav Shliach in Princeton, NJ and Author of Yalkut Levi Yitzchak Al HaTorah. At 7:45-9:00pm.
Followed by Rabbi Kalman Weinfeld, will continue the farbrengen from 9:00pm till 10:00pm.
The farbrengen will be streamed on YouTube: https://www.youtube.com/c/IrgunTorah
Live on Zoom at IrgunTorah.org
For more shiurim from Irgun Torah visit IrgunTorah.org/shiurim