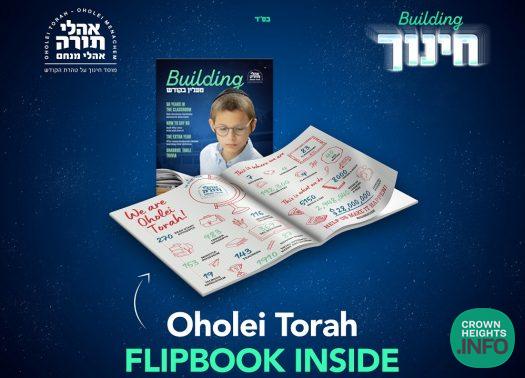 Check Your Mailbox – Did You Get Oholei Torah's New Magazine?
Oholei Torah has released a brand new magazine, the first of its kind.
The name of the Magazine is appropriately named Building – Maalin BaKodesh as it takes the reader on a journey through the exponential growth that Oholei Torah has been experiencing.
'Walk' the hallways of the Oholei Torah and get a behind the scenes look into what is going on in the Yeshiva, every single day.
Discover the brand new programs that Oholei Torah has put in place as of recently to address each student's mental health and wellbeing and the new options that are being offered to Bochurim as the community expands and so do its needs.
Hear from students and staff as they share their personal experiences and the things that they look forward to.
Reminisce with Reb Avraham Gerlitzky as he recounts the 50 years that he has spent as a Maggid Shiur in the Oholei Torah Zal.
Learn more about Oholei Torah's vision for the future as they work tirelessly to take every single division to the next level in every way.
Every single page is filled to the brim with interesting information and exciting updates. Once you pick it up, you won't be able to put it down!
Look out for your copy of Building – Maalin BaKodesh in your mailbox!