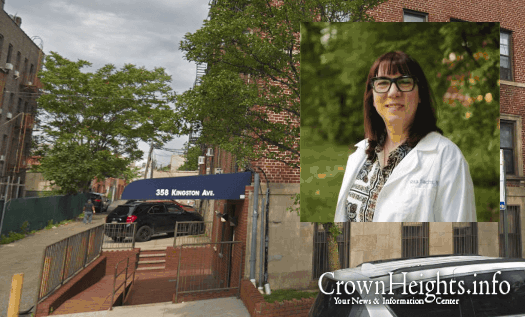 Rita Sachs, Veteran Practitioner For The Crown Heights Community Says Goodbye
by CrownHeights.info
Rita Sachs, a longtime Physician Assistant working at Dr. Rosen's office on Kingston Ave, has announced her plans to leave the practice, as she is planning on moving to Israel.
Rita, who has treated thousands of Crown Heights residents over the last 24 years, bade her farewell to friends and colleagues in a heartfelt text message.
"It is with mixed emotions that I write to let you know that I am fulfilling my lifelong dream of moving to Israel," she wrote. "I am thrilled to finally be making Aliyah, but I am saddened to leave you as well."
After graduating from Queens College in 1986, Rita entered PA school at Stony Brook University, graduating in 1993. In 1997, she joined Dr. Rosen's Crown Heights practice, and has been there ever since.
In her farewell message, Rita makes special mention to Dr. Rosen and Dr. Isseroff, whom she thanks for their mentorship and support.
She also thanked her colleagues and fellow medical staff, writing "I am so very fortunate to have worked with the most outstanding colleagues and staff who I can truly call friends. I am so grateful for all their support throughout the years."
With a Le'hitroat, Rita signed off, adding warm wished and the speedy coming of Moshiach.