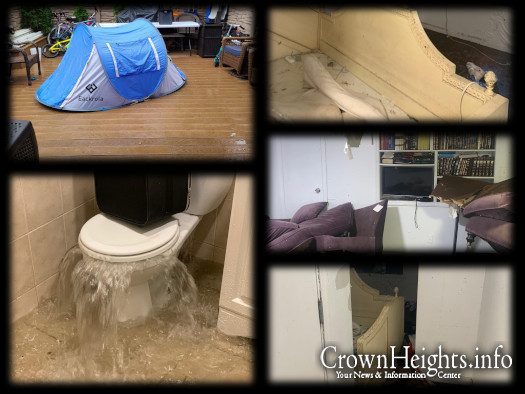 Hurricane Ida destroyed the Tal family residence and with the grace of Hashem saved two small children from drowning while sleeping. A family with seven young children living at home, they are left struggling and are without basic possessions.
Ten feet of flooding completely destroyed their living quarters and all their belongings and appliances.
The children are now sleeping in the backyard in a tent as the bedrooms are not yet in livable conditions. The cold weather bringing even more hardship.
The Tal family had already been struggling after Mr. Tal, a man of 70 years old, lost his job because of the pandemic, and now even more so.
After decades of giving back to the community by building the tents in the Rebbe's Ohel and reconstructing Machon Chana building among other mosdos in the neighborhood, the Tal family urgently needs our support.
The funds are under the supervision of Rabbi Chaim Fogelman, Rov of Itchkes Shtiebel.
100% of the funds will be immediately going to the following:
– Clothing including the basics for weekdays and Shabbos, shoes sweater and coats.
– Beds, linen, pillows and blankets.
– Backpack and school supplies.
– Appliances such as Refrigerator and heaters.
– Construction, mold Removal, new sheetrock, plaster and paint.
A few community members have take it upon themselves to organize this campaign and get the word to our brothers and sisters. Kol Yisroel Areivim Zeh L'Zeh.
Please please please find it in your heart to help the Tal family in their time of need.
We should never know the nisayon this family is going through!
May Hashem bless you with many brachos, hatzlacha, gezunt and continuous parnassah.