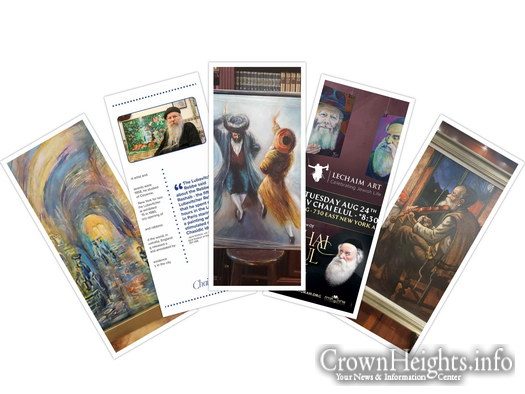 Join us tonight for the art gallery at the Chai Elul Event from Irgun Torah at 8:30pm at the Razag, 730 East New York Ave. To find out more about the event, visit irguntorah.org/chaielul.
The event will feature a display and purchase of art and Prints from Lechaim Art, with a special display of art from Baruch Nachshon.
Baruch Nachshon is a famed artist from Chevron, Israel. In 1979, he brought some of his art with him when he came to visit the Rebbe. After suggesting to him to make an art exhibit, the Rebbe came and gave comments which were subtle, yet very profound.
The Rebbe supported and encouraged artistic achievement, and on a number of occasions, he expressed his feeling that the gift of artistic talent is on the highest level.
When the Crown Heights Art Institute, called the Chai Gallery, opened in Crown Heights, the Rebbe personally issued a check for $10,000, to help with the expenses. The Rebbe instructed that the gallery be used for art instruction, and designated Henoch Lieberman, one of the most gifted Chassidic artists of the century, to conduct classes for both men and women.
"As the Rebbe said about the Rebbe Rashab – the fifth Lubavitcher Rebbe – that he spent many hours in the Louvre in Paris staring at a painting which stimulated many Chasidic ideas. – Igrot Kodesh, vol. 26, #9, p. 669. Igrot Kodesh of the Rebbe Rayatz, pp. 397-398."
For more from the Lechaim art gallery visit LechaimArt.com
For inquires LechaimArt@gmail.com or visit the Gallery at 791 East New York Avenue, Brooklyn NY Open on Sundays 4:00-7:00pm.