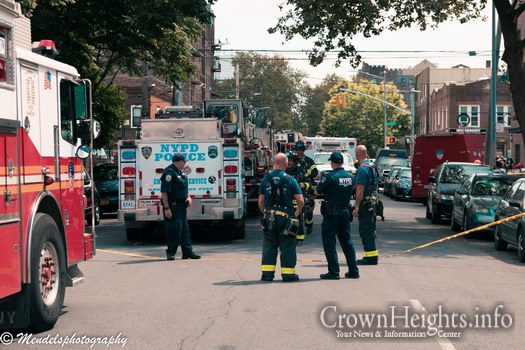 Update on Friday's Building Collapse in Crown Heights
by CrownHeights.info
A press conference was held Friday in Crown Heights updating on the structural collapse that pinned and injured two workers.
According to Deputy Assistant FDNY Chief Joeseph Farrante, 12 FDNY apparatus with over 60 personnel from the FDNY and NYPD rushed to 439 Lincoln Rd around 1:12pm Friday afternoon, after a 911 call reported a partial collapse at a construction site.
According to the Deputy Assistant Chief, firefighters found that a brick wall on the upper floor had collapsed onto two workers, pinning them under the rubble.
The first of the injured workers one hour and ten minutes to extricate, while the second took one hour and twenty minutes.
Firefighters had to remove the rubble, shore up the constriction site, and do the rescue work in a very confined space, bringing abundant praise from the FDNY official.
The two workers were rushed to Kings County Hospital in serious condition.
According to the official, the building suite had all the correct permits, and the Department of Buildings had taken up the investigation into the collapse.
Photos by Mendelsphotography