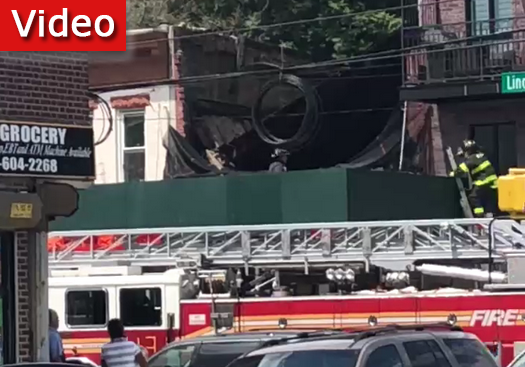 by CrownHeights.info
Emergency services are rushing into Crown Heights Friday afternoon after a worksite at a building collapsed, trapping at least one worker.
According to preliminary reports, the structure collapsed at a site Lincoln Rd off the corner of New York Ave around 1:15pm.
The responding emergency services shut down the area as they attempted to rescue a construction worker whose leg had become trapped in the collapse.
This story is developing and will be updated as information becomes available.
Update 2:50pm: Both workers have been rescued and are bring treated for serious injuries.
Update 2:30pm: Firefighters report that an upper floor wall also collapsed.
Update 2:20pm: One of the trapped workers has been rescued with serious, but not life threatening injuries.
Update 1:53pm: Both people trapped are conscious at this time.
Update 1:50pm: Firefighters report that the collapsed structure was only the scaffolding
Update 1:45pm: At this time, two people are believed trapped.
Building Under Construction Collapsed, Worker Trapped @CitizenApp

439 Lincoln Rd 1:20:37 PM EDT