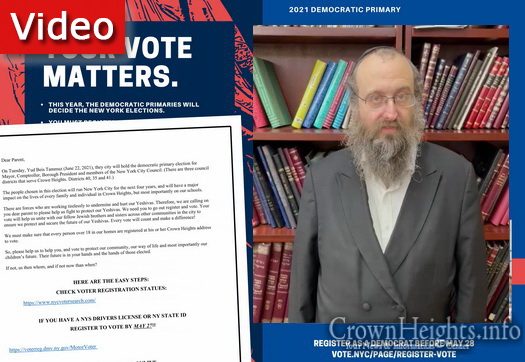 by CrownHeights.info
"The Torah tells us Hevei Mispallel Bshleima Shel Malchus, that it is our duty to do whatever we can that the government should be successful, and it is is our civic duty and our Torah duty to do whatever we can that the process should be good for us, good for the Jews, good for our Mosdos."
A message of support for an initiative to get each and every Crown Heights resident signed up to vote has been released by Rabbi Yosef Braun, of the Crown Heights Beis Din.
The initiative, which is not affiliated with any particular party or candidate, looks to bolster the political sway of the Crown Heights community long been smothered by low voter participation.
The initiative launched last week with a series of signs posted across the community encouraging voter registration. The initiative also included a letter signed by the schools of Crown Heights and sent to all the parents.
HERE ARE THE EASY STEPS:
CHECK VOTER REGISTRATION STATUES:
https://www.nycvotersearch.com/
IF YOU HAVE A NYS DRIVERS LICENSE OR NY STATE ID
REGISTER TO VOTE BY MAY 27TH
https://voterreg.dmv.ny.gov/MotorVoter
CANNOT REGISTER OR ONLINE
Please email UnitedCrownHeights@gmail.com and/or call the CHJCC at 718-771-9000 and we can help you with voter registration. You can pick up/drop off a registration form at the CHJCC or by emailing UnitedCrownHeights@gmail.com and we can drop one off and pick it up from your home.