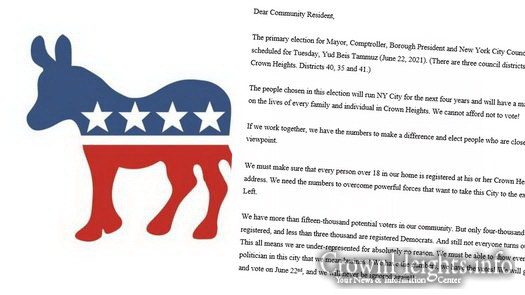 by CrownHeights.info
A group of Crown Heights activists have published a letter to the community in an attempt to get Crown Heights residents signed up to vote as Democrats in the upcoming primary elections, potentially boosting Crown Heights's voice and influence.
The letter, signed by activists and local shuls, comes following a successful push by the Queens Jewish community to install an elected official that has been positive towards the Jews.
Read the Full Text of the Letter Below:
Dear Community Resident,
The primary election for Mayor, Comptroller, Borough President and New York City Council is scheduled for Tuesday, Yud Beis Tammuz (June 22, 2021). (There are three council districts that serve Crown Heights. Districts 40, 35 and 41.)
The people chosen in this election will run NY City for the next four years and will have a major impact on the lives of every family and individual in Crown Heights. We cannot afford not to vote!
If we work together, we have the numbers to make a difference and elect people who are closer to our viewpoint.
We must make sure that every person over 18 in our home is registered at his or her Crown Heights address. We need the numbers to overcome powerful forces that want to take this City to the extreme Left.
We have more than fifteen-thousand potential voters in our community. But only four-thousand are registered, and less than three thousand are registered Democrats. And still not everyone turns out to vote. This all means we are under-represented for absolutely no reason. We must be able to show every single politician in this city that we mean business! We have the numbers, we have the votes! We will go out and vote on June 22nd, and we will never be ignored again!!
Organizations like DSA (Democratic Socialist of America) and other Anti-Israel and Anti-Semitic groups will be working tirelessly to run a slate of Anti-Israel candidates during this election.
There are also candidates and groups calling to defund the Police. Defunding the Police would obviously be counterproductive and dangerous to NYC.
You might not want to register as a Democrat, and that might be because of the recent actions taken by specific elected officials affiliated with the Democratic Party. NYC is unfortunately a one-party city. For us to have a voice, and to ensure that our needs as a community are met, we need to work within this system. This requires every registered voter to change their party affiliation to Democrat, and if you are registering for the first time, to register as a Democrat. Your party affiliation does not prevent you from voting Republican in the General Election in November, if you wish.
HERE ARE THE EASY STEPS:
CHECK VOTER REGISTRATION STATUES:
https://www.nycvotersearch.com/
IF YOU HAVE A NYS DRIVERS LICENSE OR NY STATE ID
CHANGES TO PARTY STATUS/AFFILIATION BY FEBRUARY. 14TH,
REGISTER TO VOTE BY MAY 15TH
 https://voterreg.dmv.ny.gov/MotorVoter
CANNOT REGISTER OR CHANGE YOUR PARTY AFFILIATION ONLINE
Please email ch2vote@gmail.com and/or call the CHJCC at 718-771-9000 and we can help you with voter registration, or to change party affiliation, or you can pick up/drop off a registration form at the CHJCC or by emailing ch2vote@gmail.com and we can drop one off at your home.
Join the effort!
Signed by:
Dovi Sperlin                   Rabbi Moshe Klein                   Moshe Pinson
Yossi Garelik                 Sruly Clapman                         Moshe Malamud
Zaki Tamir                     Chanina Sperlin                       Eli Cohen
Shaya Gordon                Avremel Lokshin                     Mendy Gansburg
Levi Djian
Reines Shul                    Anshei Lubavitch                     Nosson's Shul
Bais Shmuel                   Cong. Chovevei Torah             The Beshet
The Grade Shul              Empire Shtiebel                       Merkaz Avreichim
Lincoln Place Shul          Beis Schneur Shul                    Itchke's Shtiebel