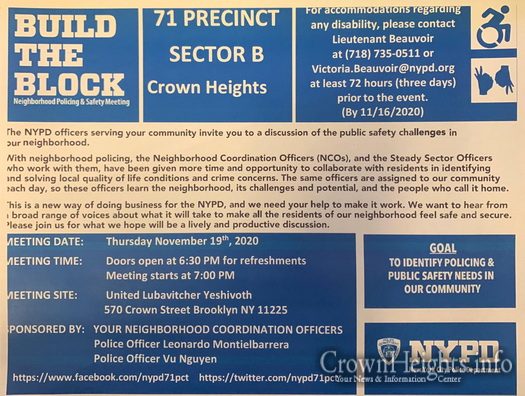 by CrownHeights.info
The NYPD 71st Precinct will be hosting a Build the Block meeting for Sector B in Crown Heights on Thursday, November 19th in Lubavitcher Yeshiva Crown Street.
The Neighborhood Coordination Officers (NCOs) have said that the meeting will focus on on-going issues and what the NYPD can do better to improve them.
For Sector B in Crown Heights, which encompasses from New York Ave to Rochester Ave and from Eastern Parkway to Empire Blvd, the NCO Officers are Vu Nguyen and  Leonardo Montielbarrera.
Within sector B of the 71st precinct lies the area of Schenectady Ave between Union Street and Empire Blvd, where a string of car break-ins have caused significant concern.
The Build the Block meetings allow for any residents to come by and voice their concerns, have their voices heard, and meet the officers dedicated to their area.
Doors are scheduled to open at 6:30pm, with the meeting officially beginning at 7:00pm.