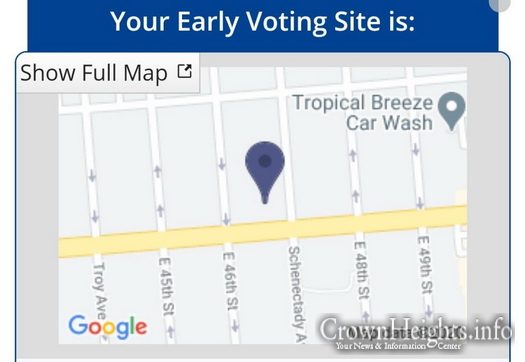 by CrownHeights.info
It may be a new election, but the city has obviously not learned their lesson from the last one, with many Crown Heights residents again fuming over the cities choice of early voting location.
For many Crown Heightsers, their early voting location is at 661 Lindon Blvd, which also happens to be a church.
"This church voting site was an issue before," Andrea Karshan wrote on twitter. "I don't know why the @BOENYC keeps repeating the same mistake again & again."
In June of 2020, the democratic primary voting station for the East Flatbush area was moved from a local public school to the church. After an outcry from the local Jewish community, New York City Councilman Chaim Deutsch intervened, arranging for through the board of elections for a tent to be erected outside the polling station.
In the end, the Board reneged on their promise, and no tent was found on election day. Instead, those unable to enter the church were told they must go to Borough Hall or trust an "employee" to place the ballot for them.
It remains to be seen what steps the Board of Elections might take to resolve the issue.