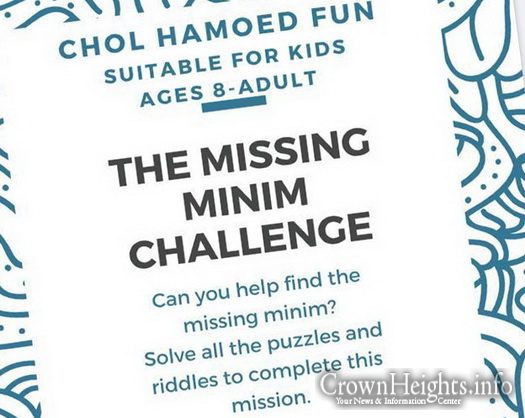 by CrownHeights.info
It's a mix of a scavenger hunt and an escape room challenge that will tease your brain, and it's built to be played in Crown Heights.
An entrepreneurial young man created the "Missing Minim" game after finding himself stuck without much to do this Chol Hamoed, and after sharing it amoung a small test crowd, is making it available to the community.
"It's a series of brain teasers/riddles/puzzles with one leading to the other," the creator told CrownHeights.info. "Kind of a mix between an escape the room challenge and a scavenger hunt."
For people without much to do for erev Yom Tov or isru chag, it's definitely worth your while.
Most of the work is done at home, but it does require leaving the house several times and foraging out into the Crown Heights neighborhood. A car is not necessary.
The game is advised for children aged 10+, but will be enjoyable for children 8-10 as well. It's a family style activity, different people of different ages can work together to piece together the clues that leads them on.
To order the game, email missingminim@gmail.com. Cost for the game is $36.