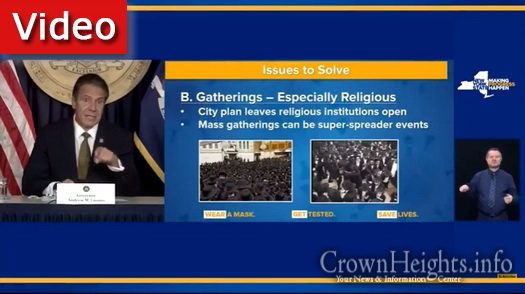 by CrownHeights.info
New York State Governor Andrew Cuomo gave a press conference Monday in which he announced the closure of schools in nine NYC ZIP codes.
To illustrate his point that religious institutions are on notice for breaking the rules and may soon be closed as well, he used a a photo of dancing in 770.
"We know religious institutions have been a problem. We know that mass gatherings are the super-spreader events," Cuomo said. "Mass gatherings have been taking place in concert with religious institutions for weeks."
"These are pictures from the past couple of weeks, and these are just emblematic," he said noting two photos projected on the scree, one of which is a photo from dancing in 770. "What did you think was going to happen?"
According to YeshivaWorldNews, the other photo used was from the 2007 Levaya of the previous Satmar Rebbe, the the Beirach Moshe.