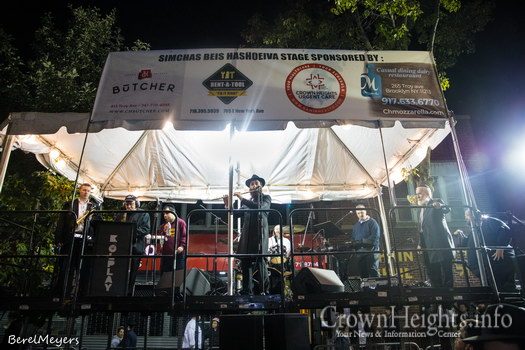 by CrownHeights.info
Simcha stops for no one, and the Crown Heights Simchas Bais Hashoeva won't stop either.
Plans for this years Simchas Bais Hashoeva are in full swing, with an entirely new spin to make it possible during the pandemic.
"It's going to be a live thing going through the neighborhood," Simchas Bais Hashoeva organizer Rabbi Yisroel Shemtov told CrownHeights.info. "We are doing it this year on a truck with music and singers on it. People at home will be able to come out of their houses to enjoy."
When asked if there will be a public event taking place on Kingston Ave, Shemtov said that "We can not encourage this because once you start, you don't know who goes in or who goes out."
He said that this years plan were confirmed with both the community's Doctors and Rabbonim.
While the annual Simchas Bais Hashoeva event is an all night affair, this years will by necessity be for a limited time each night. "We can't be driving around too long with the noise," Shemtov said.
The organizers have also hinted at the possibility of a unique video release of Simchas Bais Hashueva from years gone by. "Simchas Beis Hashueva from the days that there was 15,000 people, and it took Hatzalah 10 minutes to get through. It was wall to wall."
According to Shemtov, the video presentation is meant to give people the "feel" of what Simchas Bais Hashueva is, despite the scaled down version this year.