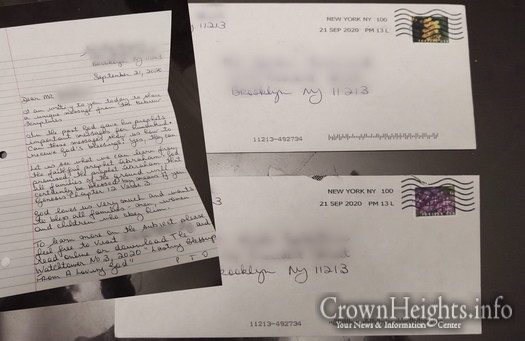 by CrownHeights.info
A Crown Heights resident was surprised to find an innocent looking letter addressed to him arrive in the mail, but it was anything but innocent.
The full page handwritten letter was addressed to him, a Jewish man living in Crown Heights, and even began with his name. From there, it began speaking about G-d and prophets, ultimately pushing the reader to visit a website linked to an evangelical Missionary group.
While alarming at any time, this letter was particularly concerning as it appears to be a personal letter, with no signs of the letters intent.
It was also wasn't the only letter sent. Another letter, also hand written, was sent to the same address, but for a tenant that had previously moved out.
The return address on the letter goes to one of the groups local chapters on Bergen Street in Crown Heights.
Another similar attempt by the same group took place in June of this year, with the return address from another local chapter on Fenimore Street located on the outskirts of Crown Heights.
Want to receive live updates and Breaking News for Crown Heights and the Chabad world directly to your Whatsapp? Sign up for CrownHeights.info's whatsapp updates.
Simply save our number 718-285-8000 to your contacts and send us a message.