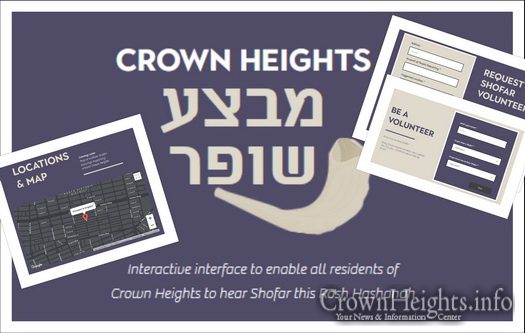 In light of recent developments and uptick in Covid-19 cases in our Shchuna along with the recommendations from the Rabnonim, Dr. Eli Rosen and the Gedalia Society, the Association of Crown Heights Shuls has created a new website to ensure that all Crown Heights residents are able to hear the Shofar this Rosh Hashanah.
As the recommendations are for the elderly and other immunity compromised individuals to avoid large gatherings and reinstate porch Minyanim, these shofar blowings can take place outdoors.
This new website, www.mivtzashofar.com will have the following features.
Sign up for people in need of someone to come to their home / street corner / porch Minyan to blow Shofar
Sign up for volunteers to blow Shofar
Form to collect data of all porch Minyanim and to have a listing by blocks
Interactive map of Shofar blowings
The site is still in development and not all features are ready yet.
In addition, the Association of Crown Heights Shuls is scheduled to receive a donation of 50,000 three ply face masks (Monday Sept. 14th,) and will once again be making them available free of charge to all Shuls in the greater Crown Heights area.
Suggestions / comments and support would be most welcome at crownheightsshuls@gmail.com
This website is being brought to you by Rabbi Lazer Avtzon of the Association of Crown Heights Shuls.