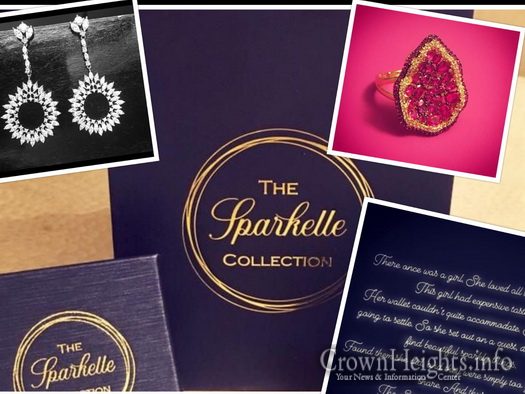 by CrownHeights.info
In Crown Heights, everyone can sparkle.
The Sparkelle Collection, a line of elegant women's jewelry for every age and taste, is the brainchild of Chava Schechter, who brought the elegance and beauty of high end jewelry at an affordable price to Crown Heights.
Born in Berlin, Germany, Chava moved to the United States at ten years old, eventually arriving in Crown heights at eighteen. After spending time in Machon Chana Seminary under the auspices of Rabbi Majeski, she settled down and got married.
As a young married couple on a kollel budget, even the most basic jewelry gifts were off the table.
It was then that she discovered a void in the local Lubavitch community, and The Sparkelle Collection was born.
Chava put together a collection of stunning jewelry that speaks of elegance and a timeless look, all while remaining affordable.
"The idea was for women to be able to buy beautiful pieces that look and feel real, at a very affordable price."
With most items in the collection ranging from $29 to $79, the high quality cubic zirconia stones settings are stunning, while being affordable to all. Each item also comes in a beautiful custom made box and bag.
"They are great for gifts as well," Chava told Crownheights.info. "We have pieces for women of all ages."
From preteens, teens and Bas Mitzvah gifts, to items for older ladies, The Sparkelle Collection has it all.
Chava provides options for out of town purchases, with orders over $120 shipped free.
Want to just come by and take a look? Chava provides a no stress place to browse, without pressure to purchase.
The Sparkelle Collection will be having a pop up shop today, Thursday, from 8:30pm to 10:30pm.
Contact Chava at 617-412-7005, or follow her on Instagram @thesparkellecollection.