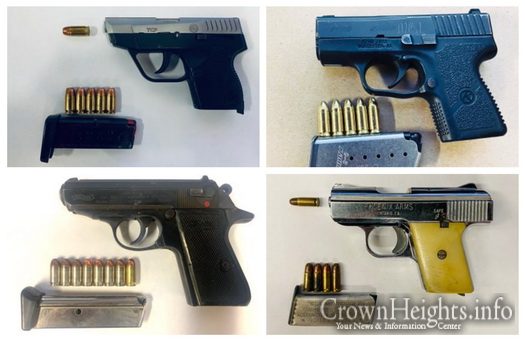 by CrownHeights.info
The NYPD's 71st police precinct which covers a majority of the Crown Heights Jewish community announced the seizure of another four guns Sunday night, bringing the total of confiscated guns to eleven in less than a week.
"Lastnight, the 71 FIO's, SRT and NCO's teamed up for a second night in a row and arrested another 4 individuals with another 4 illegal firearms in an effort to keep guns off our Brooklyn streets."
This weekend marks Labor Day and J'Ouvert, an annual boisterous affair marred by violence each year. This year, an early morning shooting Monday night ended with five people shot, including a six year old boy.
Lastnight, the 71 FIO's, SRT and NCO's teamed up for a second night in a row and arrested another 4 individuals with another 4 illegal firearms in an effort to keep guns off our Brooklyn streets. #fourlessguns #crownheights #keepingnycsafe pic.twitter.com/paUyzQ9odN

— NYPD 71st Precinct (@NYPD71Pct) September 7, 2020