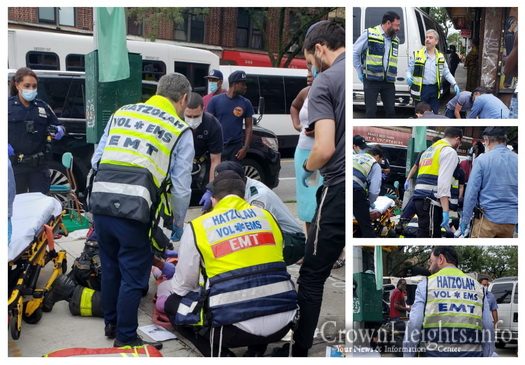 by CrownHeights.info
An out of control Utica Ave dollar van ended up on a sidewalk Tuesday morning, striking a woman. Crown Heights Hatzalah was on scene immediately to give aid, and created a great Kiddush Hashem.
The incident took place around 9:35am Tuesday morning at the intersection of Utica Ave and Carroll Street, when a dollar van driving up Utica Ave lost control, hitting a pedestrian before coming to rest on the sidewalk.
Crown Heights Hatzalah volunteers quickly responded, providing aid to the woman and making a big kiddush hashem.
A bystander told Crownheights.info that the crowd remarked appreciatively on Hatzalah's quick response.
The woman was transported by a 911 ambulance from Kingsbrook Jewish Medical Center.