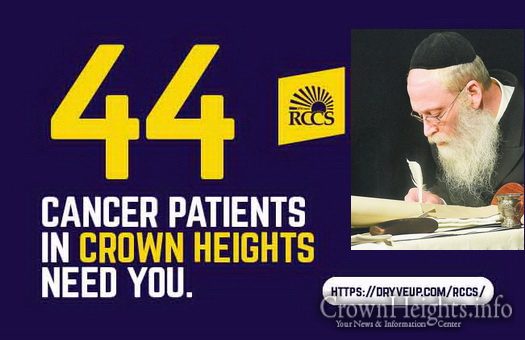 Dear Chabad Community,
With the help of Hashem, Rofeh Cholim Cancer Society is launching a 36-hour campaign to raise $1,000,000. Just in the past 12 months, RCCS has been providing services to 44 patients in our own Crown Heights community, requiring a budget of over $300,000, and an additional 50 worldwide Chabad patients requiring a budget of over $500,000, please join me in showing your generous support to this vital organization and all they do for our community.
Who is RCCS?
For over 20 years, RCCS has been dedicated to helping cancer patients and their families receive the best medical care to help them recover from their dreaded illness. RCCS currently oversees the cases of over 2,600 cancer patients worldwide.
Very often a patient is Chas V'Shalom diagnosed, their lives are literally hanging in the balance. One or two days can be the difference between life and death. The worst thing for the patient is not having immediate access to the best care and specialists because they lack the guidance and connections, or because they cannot afford access to the proper care.
Enter RCCS. RCCS acts as a liaison and advocate for the patient, helping to guide them through the confounding maze of physicians, hospitals, and treatments, and pay insurance premiums for those that cannot afford to pay. . But more than that: This organization, with its unparalleled connections to the top specialists in the country, procures appointments to the top doctors in the field.
I have been volunteering for RCCS for many years on their applications committee, reviewing cases from the Chabad community all over the world. I have seen firsthand all of the amazing work that they are involved in daily. Over the years I have been involved in hundreds of cancer patients here in Crown Heights as well as with Shluchim and their communities worldwide. We have dealt with cases as far out as South Africa and Australia. Boruch Hashem I have been witness to many Nissim working with this organization.
I want to share with you two stories of how RCCS helped Chabad patients. I was personally involved in both.
In Crown Heights, an older woman with several children was diagnosed with a rare and fast-growing cancer in several of her organs. This woman needed to be seen immediately by a very specific doctor who specialized in this type of cancer. But she didn't have the proper insurance, and there were complications with simply paying out-of-pocket. RCCS worked tirelessly to be able to get her a legal exemption to be able to be seen for the initial appointment. Her insurance denied the first claim; RCCS paid for her visit though our medical subsidy grant program.
After that initial appointment, the doctor informed the RCCS team that she needed to have surgery immediately. RCCS's team went to work around the clock, until she was able to get the proper insurance. At the same time, the medical advocacy team battled the hospital to clear her for surgery–even as she sat in the waiting room. Boruch Hashem, RCCS was able to get her cleared for surgery and the surgery was a success. She still deals with quality of life issues and some complications, and RCCS has been standing by her side, helping and guiding her throughout the whole ordeal.
RCCS dealt with another case recently with a young Shliach with esophageal cancer that kept coming back. After having a major surgery in a top hospital, the doctors in that hospital were completely Meyaesh. But the RCCS team wasn't ready to give up on him. RCCS was able to have him switched to another hospital, and found a new top doctor to take his case. Baruch Hashem, the doctor is still actively treating this patient and managing all his challenges, and the cancer is continuously shrinking.
Cancer is a terrible, terrifying, and life-changing disease. RCCS makes sure that our community is able to fight it. We deal with each case, we provide advocacy, we provide financial backing, we provide emotional support from the very first vital days until the very end, no matter what. We make sure the members of our community are not left out in the cold in dealing with this dreadful machalah.
Please find it in your hearts to help this vital organization. Click Here to donate!
Rabbi Moshe Klein