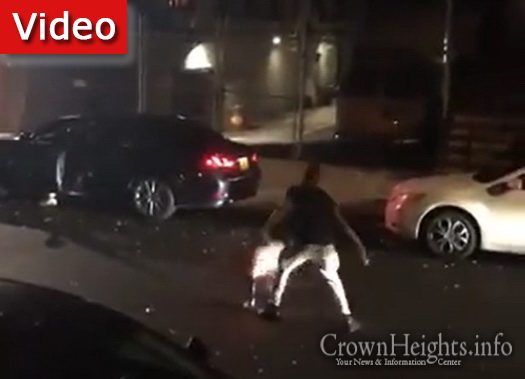 by CrownHeights.info
It's been tried and tested, asking those lighting fireworks nicely to please stop doesn't work.
We are not just saying that, it was actually tried last night in Crown Heights, and it didn't work.
A resident went outside his home near the corner of Albany Ave and Hawthorn Street in Crown Heights around midnight last night, to ask a young man lighting fireworks to please stop. Instead of listening, the man continued to light the fireworks, sending the sound of explosions ripping through the air.
The video was posted to twitter by Berel Majesky, who wrote "Ask nicely you say?@NYCMayor @BKBoroHall Seems to be working well…"
The continuous blasts have kept the communities already off schedule children up well into the early hours of the morning, creating even more resentment and stress in the community.
"Night number (I'm loosing count) on the other end of Crown Heights sounding like a war zone," said SwissMendel on twitter. "Kids (my kid) aren't getting enough sleep at night."
Members of the community lay blame for the lawlessness at the feet of New York Cities Mayor, Bill De Blasio, after pandering to the protesters and curtailing the NYPD's ability to maintain quality of life on the streets of New York City.
After protests by residents demanded that the city stop the illegal fireworks, the Mayor created a multi organization unit tasked with intercepting and disrupting the supply of the fireworks to the city streets. Despite multiple busts and seizures, the nightly blasts have not yet ceased.
Want to receive live updates and Breaking News for Crown Heights and the Chabad world directly to your Whatsapp? Sign up for CrownHeights.info's whatsapp updates.
Simply save our number 718-285-8000 to your contacts and send us a message.
Ask nicely you say?@NYCMayor @BKBoroHall Seems to be working well… pic.twitter.com/dk4nuvIOAb

— Berel Majesky (@BerelMajesky) June 29, 2020