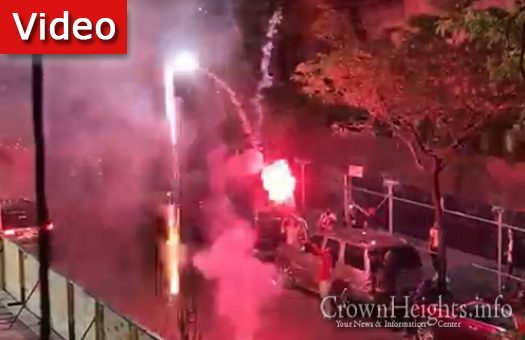 by CrownHeights.info
The scourge of fireworks that has kept the residents of Crown Heights gritting their teeth continued last night, shaking buildings and shooting colorful flashes into the air.
Despite the beautiful display, the residents of Crown Heights are not enjoying it.
"Thousands of kids awaken in Crown Heights terrified & traumatized from 2 weeks of nonstop fireworks at night." One Crown Heights resident tweeted. "Seniors haven't slept in weeks. Residents don't walk Eastern Parkway past 10pm to avoid being hit by fireworks. Has New York turned lawless?! We don't feel safe tonight!"
Those lighting the fireworks appear to be doing it unopposed, blatantly lighting the fireworks in the middle of the streets before standing back and watching the show.
A police source told CrownHeights.info that legally, no arrests can be made for fireworks unless the officers actually see a person lighting it.
"The officers that used to monitor this, the plain clothed units, the unmarked cars, that's all gone," the police source said. "So there isn't any units that can catch them actually lighting fireworks."
While the police blame the policies put in place following the Black Lives Matter protests for their inability to stop the fireworks, most politicians appear to be ignoring them entirely.
Councilman Chaim Deutsch appears to be an exception, tweeting "It's 1:30am & I'm receiving calls from New Yorkers all over the city who can't sleep because of the nonstop fireworks."
Deutsch himself called out the near silence from politicians. "Where is the leadership? Our city sounds like a war zone and people's quality of life is suffering tremendously. This is dangerous!"
With the stalemate and political climate in New York City, there is little hope that the fireworks will be stopped.
Want to receive live updates and Breaking News for Crown Heights and the Chabad world directly to your Whatsapp? Sign up for CrownHeights.info's whatsapp updates.
Simply save our number 718-285-8000 to your contacts and send us a message.