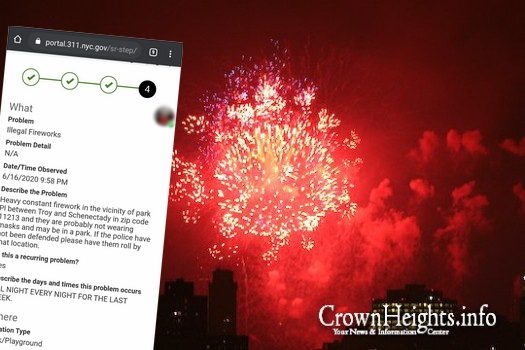 by CrownHeights.info
The Crown Heights fireworks display continued Tuesday night, keeping adults awake and scaring children.
The illegal fireworks being set off in the streets have remained mostly unopposed by the police, as the blasts terrorize the community each night.
"Crown Heights sounds like a war zone," commented a Crown Heights resident earlier this week, referring to the continuous blasts from all around the neighborhood.
Another told CrownHeights.info that these fireworks continue from the evening and into the early hours of the morning. "It seems like they are surrounding all streets… feels kind of violent and ominous."
Reports of fireworks being shot into the air show that these fireworks are taking place in multiple locations. Reports have named areas such as around St Marks near Schenectady Ave, the area of Nostrand Ave and Empire Blvd, Fenimore Street near Bedford Ave, Eastern Parkway near Franklin Ave and more.
The community had enough last night, and began to take action.
Using phone calls, texts, online and the 911 app, Crown Heights residents inundated the 911 system with reports of illegal fireworks, sometimes even getting creative so as to "lure" the police to the locations.
One resident sent to 911 that he observed "Heavy constant fireworks in the vicinity of Park Pl between Troy and Schenectady in zip code 11213," adding that "they are probably not wearing masks and may be in a park."
A request for comment from the 71st Precinct had not been returned at the time of publishing this article.
Want to receive live updates and Breaking News for Crown Heights and the Chabad world directly to your Whatsapp? Sign up for CrownHeights.info's whatsapp updates.
Simply save our number 718-285-8000 to your contacts and send us a message.