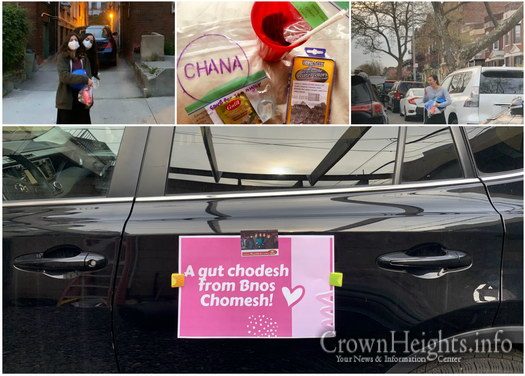 Bnos Chomesh Delivers Gut Chodesh Message To Each Students Door
What happens when your school wants to have evening activities but everyone is stuck at home?
If you go to Bnos Chomesh, the activities come to you!
In honor of Rosh Chodesh Iyar, Principals, Teachers and Bnos Chabad Leaders of Bnos Chomesh took to the streets of Crown Heights in their cars for a mini-parade. Decked out in their masks and gloves, the staffers made their way through the streets, stopping at the home of each student to deliver a care package, a balloon and a "Gut Chodesh" message. One by one, the surprised students walked out of their homes to be greeted by Sfira music blaring from the cars and smiles and socially distant greetings from their beloved staff.
Each student received a personalized package with a delicious treat, as well as supplies for an art night and a spa night that will take place later this week. The parents' and students' reactions were priceless!
"Thank you so much for thinking of our girls. It was such a pick me up and brought smiles!"
"Really boosted the morale and was so needed! Thanks so much for the caring and love you show the girls."
"You have no idea how much this meant to me! I was almost crying with happiness!"
"I can't believe that just happened, it was so cute! I was having such a bad day and this really brightened it up!"
And in case you are worrying about the out of towners, care packages were sent to them by mail. We may not have regular school schedules these days, but in these irregular times every interaction becomes so much more meaningful.
For more information on Bnos Chomesh please visit the website at bnoschomesh.com or email them at office@bnoschomesh.com.
Registration is now open for the 5781/2020-2021 school year.