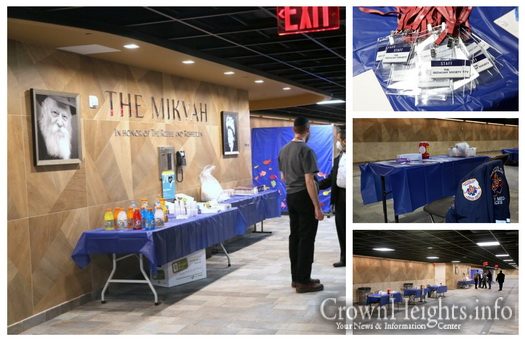 by CrownHeights.info
Crown Heights led New York City into the COVID-19 Coronavirus pandemic, and now it is leading it out.
Antibody testing, arranged by the Gedaliah Society in collaboration with Mount Sinai Hospital, began Tuesday with a limited test trial in Crown Heights.
"The objective is simple," one Gedaliah Society volunteer told CrownHeights.info. "We have a large amount of people in the community who have contracted and recovered from the virus. That means we have the enormous potential to save lives by donating plasma."
The testing took place in the newly opened garage of The Mikvah on Carroll Street. The unique design of the garage allowed for drive in, drive out testing, reducing person to person contact.
The blood drawing stations, with separate areas for men and woman, was staffed by volunteers from Crown Heights Hatzalah and the Gedaliah Society. The testing was spread out over five hours, further limiting contact.
Those who had their blood tested will receive a notice from Mount Sinai should their blood have a high antibody count. They would then be able to donate their plasma to help save others in critical condition from the virus.
The Gedaliah Society, a group of medical professionals in the community, and Dr. Eli Rosen, perhaps the most prominent Crown Heights community physician, have taken the lead in directing the community through the present crises. Together they provided continual updates and advisories during the rapidly evolving situation.
While the testing on Tuesday was a very limited trial, the Society hopes to expand it to the entire community.