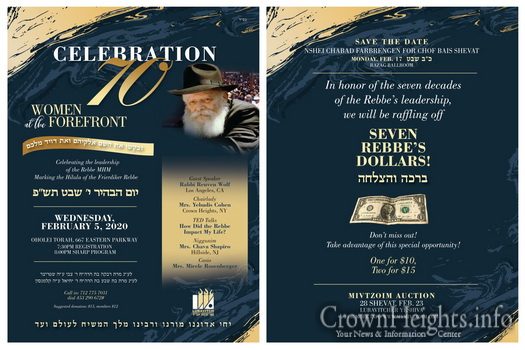 N'shei Ubnos Chabad invites all women and girls to a very special gathering celebrating 70 years of the Rebbe's leadership as well as marking the Hilula of the Frierdiker Rebbe. This event will take place this coming Wednesday evening, February 5th at Oholei Torah, 667 Eastern Parkway. Registration begins at 7:30 pm; the program will begin at 8:00 pm sharp.
Renowned guest speaker Rabbi Reuven Wolf will speak on the topic "Women in the Forefront". Please see the attached flyer for more details.
To accommodate those who cannot attend, please call in – 712-775 7031, access code 453 290 672#.
Save these dates:
Chof Beis Shevat Farbrengen at the Razag, February 17th
28 Shevat – Mivtzoim Auction at Lubavitcher Yeshiva, February 23rd