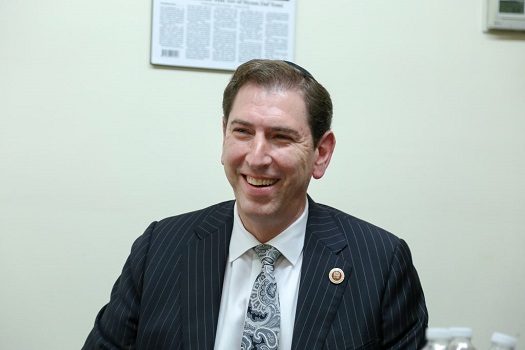 (Yitzy Engel/Hamodia)
by Reuvain Borchardt – Hamodia, and CrownHeights.info
New York City Councilman Chaim Deutsch filed Tuesday to run for U.S. Congress in New York's 9th District.
Deutsch is one of several Democrats who will try to unseat incumbent Yvette Clarke in the 2020 Democratic primary.
Deutsch's City Council term is scheduled to end in 2021, when term limits will prohibit him from running for that seat again.
In a statement, Deutsch said; "I am excited to announce my candidacy for United States Congress in NY-9."
"For the past six years, it has been my honor to represent the 48th district in the City Council, one of the most diverse districts in NYC, advocating for my constituents every single day. It is with this same spirit & passion that I pursue this new opportunity in Congress. I am proud to live and raise my family in NY-9, and I believe every one of my neighbors deserve a tireless advocate on their behalf."
Previously declared challengers to Clarke in the 2020 primary include Adem Bunkeddeko and Lutchi Gayot.
The 2018 primary between Clarke and Bunkeddeko was surprisingly close, with the incumbent edging out the challenger by a mere 53% to 47%, or about 1850 votes.
Gayot ran against Clarke in 2018 in the general election on the Republican line and was trounced 89% to 10%.
Clarke's surprising weakness last time around in the Democratic primary appears to have encouraged a stronger challenge this time around from a number of candidates.
Deutsch's council district includes Midwood and other neighborhoods that overlap with NY-9. He identifies as a "conservative Democrat."