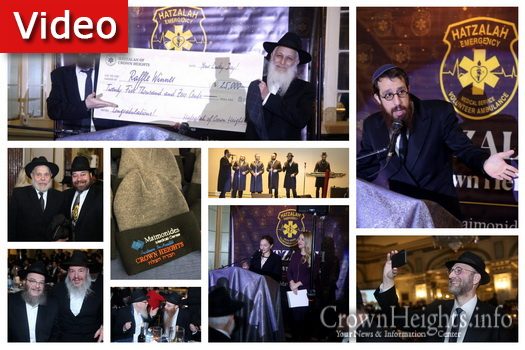 Hundreds of men and women turned out this Motzai Shabbos for Crown Heights Hatzalah's annual Melava Malka, health symposium and raffle for $25,000.
MCing the evening was popular comedian Mendy Pellin, who opened the evening with comedy and laughs, before introducing the speakers for the evening.
Intruductory words were given by Mr. Kenneth D. Gibbs, President and CEO of Maimonides Medical Center, who spoke on the important connection between Hatzlah and Maimonidies Medical Center. He also announced the beginning stages of the long anticipated expansion to the Maimonides Emergency Room.
Keynote speaker at the event was Dr. Lyn Model MD, MS, A pediatric Surgeon and Pediatric Trauma Medical Director forMaimonides Medical Center. Dr. Model spoke on the topic of injury prevention, giving useful tips and advice.
Gila Ramsey, the Injury Prevention Outreach Coordinator for Maimonidies Medical Center also spoke on the topic on Injury Prevention.
Rabbi Levi Gerelik spoke words of Hakaras Hatov, thanking the Hatzalah volunteers and galvanizing the community to support Hatzalah's life saving work.
The Melava Malka featured a delicious spread of dairy and parev food catered by Benny Turk of Turk Cateres, a wine bar by Yudi and Mendy Eber of Eber's Wines and Liquors and a sushi bar by Sushi Spot. Live music by Fitche Ben Shimon, accompanied by The Shira Choir.
Dr. Eli Rosen, a local physician and coordinator in Crown Heights Hatzalah, was last to speak and thanked the wives and families of the Hatzalah volunteers for lending their husbands and fathers to Hatzalah's life saving cause.
The highlight of the night was the raffle drawing for the grand prize of $25,000. The winning ticket was drawn by long time Hatzalah Paramedic Mordechai Eckhaus, with the winner being announced as Alexander Weisz.
All attendees received a free Hatzalah embroidered winter hat as a door prize.