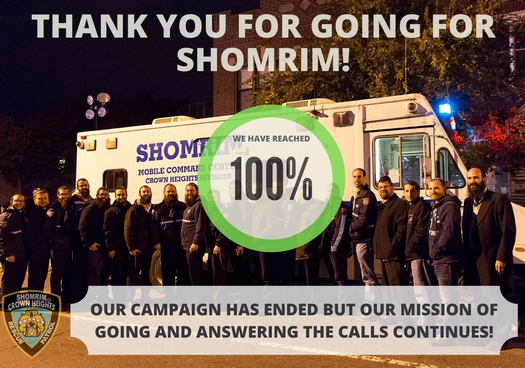 by CrownHeights.info
Over Chanukah, Crown Heights Shomrim ran it's first ever fundraising campaign to help equip its volunteers with necessary safety equipment and cover the cost of running the organization.
In a message to the Crown Heights community, Shomrim said Thank You to all who donated and helped make the fundraiser a success.
Over eight days, $51,888 was donated by 572 individuals towards the organizations vital work.
"It was heartwarming, and inspiring to see how many people appreciate what we do," said one Shomrim volunteer.
Despite the campaign having officially finished, the work of Shomrim is ongoing.
"We are here for the community 24 hours a day, 7 days a week," said Coordinator Rabbi Mendy Hershkop, "and will continue to help the people of our community."
You can still support Crown Heights Shomrim by clicking here, or by calling 718-774-3333.