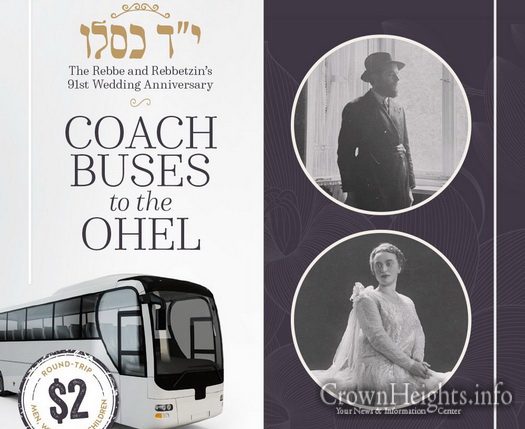 In honor of Yud Daled Kislev the Rebbe and Rebbetzin's 91st wedding anniversary, coach buses will be making round-trips to the Ohel all day today.
The Rebbe spoke at a Farbrengen of Shabbos Parshas Vayishlach, Yud Daled Kislev, 5714/1953, the day of his 25th Wedding anniversary: "This is the day when I was connected with you [Chasidim], and you were connected with me. Together, we will successfully toil to bring about the true and final Geulah. May Hashem help [us] that we will see fruitful results from our labor."
To strengthen our Hiskashrus to the Rebbe, on Thursday, Yud Daled Kislev, Dec. 12, 2019 there will be multiple round-trips from 770 going to the Ohel and back, on comfortable coach buses for the Crown Heights community: Men, women and children.
The cost for a round-trip ride will be only $2.00 nominal fee.
LEAVING FROM 770:
8:00 AM |11:00 AM | 2:00 PM | 5:00 PM | 8:00 PM
LEAVING FROM THE OHEL:
10:00 AM | 1:00 PM | 4:00 PM | 7:00 PM | 10:00 PM
This project has been made possible through the generous funding of Zalmy and Sarale Cohen, Shloimy and Mirele Greenwald, Yossi and Nechama Dina Katz.
Organized by Menachem Benchemon