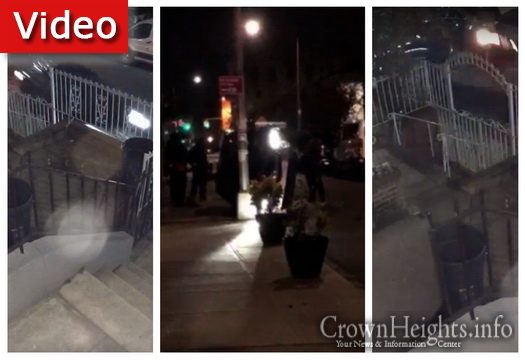 by CrownHeights.info
A Ring doorbell and camera caught the first part of a 4:00am accident that shows the damage a person can do while irresponsibly driving a car.
The video shows Lincoln Pl near Utica Ave as a driver of what appears to be a black sedan speeds down the block. The speeding vehicle veers to the left side of the road, striking a metal barrier placed around a tree.
The barrier threw the car to the side, spinning it partially around. The driver of the car appears either severely intoxicated or intent on causing damage, as he drives straight into a wall and gate surrounding a home.
The driver manages to reverse, striking a parked minivan before taking off back up the one way street. The driver hops onto the sidewalk, and drives off camera. Not long after, a citizens app video shows the car having flipped onto its passenger side doors.
The driver was reported to have been arrested at the scene.
Overturned Vehicle @CitizenApp

Lincoln Pl & Schenectady Ave 4:09:08 AM EST