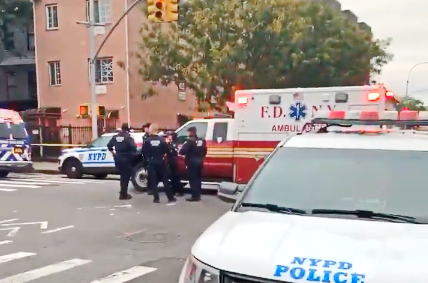 The deck was stacked against them.
Four Brooklyn gamblers drew a dead man's hand early Saturday when an enraged fellow card player opened fire inside an illegal Brooklyn gambling den just before sunrise, authorities said. Bodies were scattered across the club and playing cards still lying on the table when cops arrived at the Crown Heights bloodbath, where three other gunshot victims escaped with their lives.
A suspect was quickly in custody for the quadruple homicide, with a high-ranking police source telling the Daily News that cops believe he was either the triggerman or played another role in the slayings. The gruesome shooting spree apparently started in a dispute over a card game inside the cramped club, the source added.
Two of the victims were lying dead on the floor alongside an oblong card table, with toppled chairs in the background. One man's baseball cap and phone were on the ground nearly, with a five of clubs resting on the floor barely a foot from his head, another source told The News.
The second pair were killed in a long narrow hallway, where an empty Corona bottle, four shell casings and a chicken bone flanked another victim, the source said.
As many as 15 shots were fired inside the first-floor Triple A Aces Club on Utica Ave. near Dean St. around 7 a.m., with the slain victims all pronounced dead at the scene, said NYPD Chief of Detectives Dermot Shea. No one was immediately charged, although police were questioning several eyewitnesses as the probe continued.
The club, Triple A Aces, bills itself as a "private and social rental space" for "food, fun and entertainment" according to a sign above its door.
Read More at NY Daily News