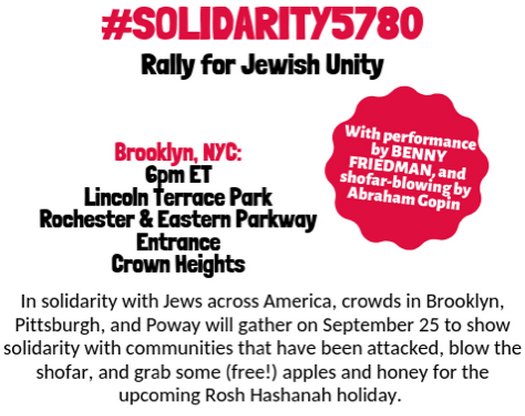 In a solidarity event coordinated by the Tablet Magazine, Jews from Brooklyn, Pittsburgh, and Poway will be coming together "to show solidarity with communities that have been attacked, blow the shofar as it is the month of Elul, and grab some (free!) apples and honey for the upcoming Rosh Hashanah."
Benny Friedman will headline the event with Tishrei songs and Rabbi Abraham Gopin, a victim of an assault in Crown Heights, will blow the shofar at the rally in Lincoln Terrace Park, Crown Heights. The Crown Heights event is scheduled for tomorrow, September 25th, at 6 p.m. Simultaneous events in Pittsburgh and Poway will show support for Jewish communities which have been the target of anti-Semitism and bloody violence this past year.
The Pittsburgh synagogue shooting was the deadliest attack on the Jewish community in the United States. 11 people were killed and 6 injured in the shooting on Shabbos morning – October 27, 2018.
The San Diego suburb of Poway was the site of the second synagogue shooting which occurred on the final day of Pesach – April 27, 2019. A gunman fired shots inside the Chabad of Poway killing Lori Kaye and injuring three other people.
One of the most recent anti-Semitic attacks happened last month in Brooklyn when Rabbi Avraham Gopin, a Chassidic resident of Crown Heights, was walking in Lincoln Terrace Park. A black man hit him with a rock in the face, breaking his nose and knocking out two teeth.
Similar attacks have gone on in Brooklyn unabated over the last few years. There was a Chassidic man ambushed just last week in Williamsburg by four assailants.
Wednesday's solidarity event in Crown Heights aims to raise awareness about these vicious attacks and let the communities they are taking place in that they are not alone and are supported by their Jewish neighbors from throughout the city.
Attendance is open to the public and free. "Join us as we close the book on a hard year—in hopes for a safer, sweeter new one," organizers said.
Brooklyn, NY: Lincoln Terrace Park – enter at Rochester & Eastern Parkway Entrance
6:00 pm Eastern Time
Pittsburgh, PA: Squirrel Hill Parklet – Murray & Darlington
6:00 pm Eastern Time
Poway, CA: Chabad of Poway – outdoor parking area
3:00 PM Pacific Time